About Us
As the old continues to evolve, Pasifik Cekap remains committed to its guiding philosophy,
Productive. Creditable. Sustainable.

Yours faithfully,
Mr Peyser Beh
Encik Awaludin Bin Osman
Encik Redzuwan D'Silva Bin Abdullah
Puan Sabariah Binti Mohd
Directors of Pasifik Cekap Sdn Bhd
Directors Message
The history of Pasifik Cekap Sdn Bhd can be traced back to the 1980s when it first started to set foot in steel industry. Having to accelerate the course of business, the steel entity was revamped and re-established in Year 1994 to be approved as Petroliam Nasional Berhad (PETRONAS) Vendor. In Year 1995, Pasifik Cekap is registered as PETRONAS License No: 298903-D holder, Malaysia's leading international petroleum corporation.
Steel industry is a significant contributor in overall economic development. As steel industry developed revolutionarily, globalization has binded the world as one which reinforces cooperation between countries. Despite the speed and degree of changes in the global economy and the increasingly complex interplay of factors influencing integrated steel business, steel sector has performed stronger than expected as demand continues to shift in developing nations. Since Pasifik Cekap's establishment, it has put higher emphasis on the incorporation of global corporate management systems through modernization, system advancement, and group-driven innovation activities.
With our strong foundation of expertise through experiences gained over the years in the field of steel products, we proclaim our dedication to serve and supply world-class quality to oil, gas, refinery, petrochemical and offshore industries as
our long term commitment. We are willing to go extraordinary lengths to fulfil our client's requirements and to reinforce our commitment. We are encouraged to make transformation personal, engage others openly and to spotlight successes as they emerge. As the old continues to evolve, Pasifik Cekap remains committed to its guiding philosophy, 'Productive. Creditable. Sustainable'. Based on this, Pasifik Cekap is accelerating its robust march towards sustainable corporate growth and development. We, as directors, strive to use our business activities to help solve problems and contribute to sustainable societal growth, both locally and internationally.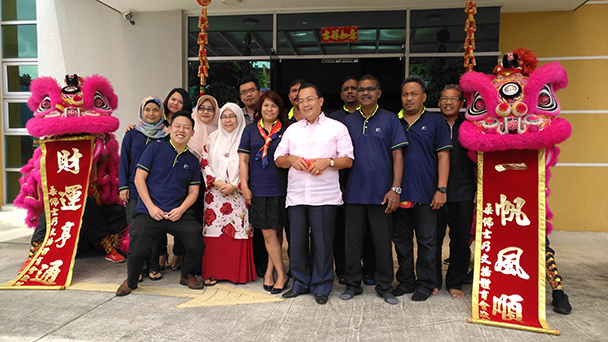 We sincerely invite you to provide us with continuous support to every memorable step of Pasifik Cekap's future growth and development.
Vision & Values
Corporate Vision
Dedicated to prioritize customers' requirements and serve to ensure outstanding statisfaction.
Corporate Values
Productive
Creditable
Sustainable
Business Code of Conduct
1. Provide quality goods and services with fair dealing.
2. Rigorous compliance of laws, rules and regulations.
3. Provide a challenging, attractive and safe working environment.
4. Resolve and prevent conflicts of interest.
5. Actively participate in community service to fulfil our duty as a corporate citizen with a charitable spirit.
6. Respect human rights and contribute towards global unity.
7. Keep our world green.